When you have a large family, drying the wet laundry turns into a nightmare without having a tumble dryer. We simply cannot always hang our clothes outside because of lack of proper drying area or a garden at home or because of particular weather conditions. That's where tumble dryers become a must.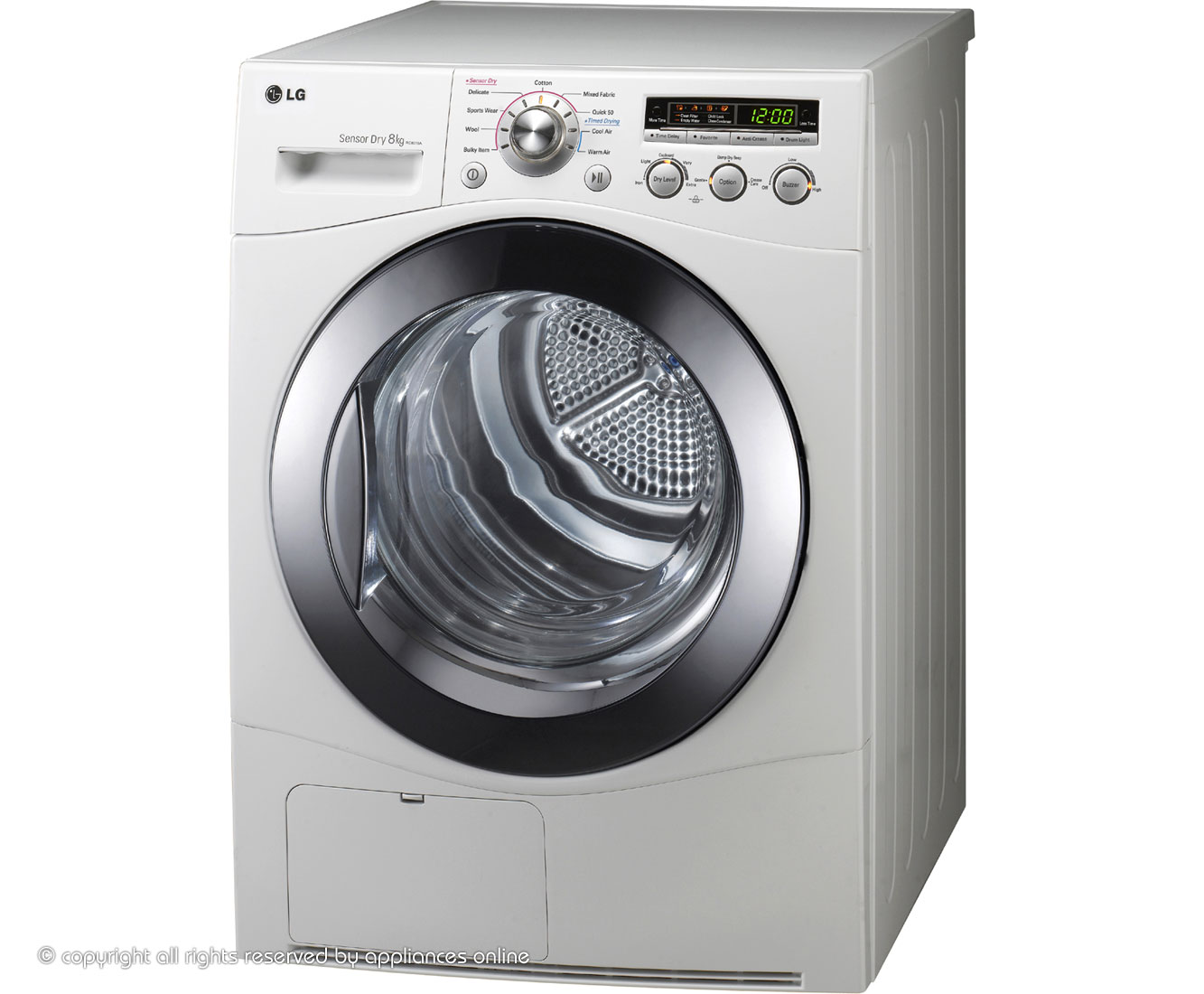 Technological breakthroughs over the past few years have led to the production of more sophisticated ones, which tend to be more efficient and also at the same time it also utilizes relatively lesser energy.
Tumble dryers today can be found in many different shapes, color and sizes. They could be picked in accordance with one's needs i.e. should your family is a big one, then you may need a bigger dryer so as to cater to more clothes and therefore saves time. They variety are also there to match the theme of the property. Though, there are numerous types available, it could broadly be classified in 3 types i.e. the vented type, gas run type and the condenser type.
In condenser models, because they don't need a hose out from the back side of the machine they can be fixed anywhere inside the house and hence is the best suited one for small homes. Moisture from the wet clothes is gathered in a self-sealed tray or bottle during the drying procedure and this can be emptied after each cycle.
Vented Dryers requires an air vent and therefore need a place near an outside wall with a hole to allow the machine's hose out which will pass the warm moist air created throughout the drying process.
The standard type of tumble dryers, also called as the entry-level dryers, spin the drum that contains the wet clothes, in one direction only. This leads to tangling of clothes and also may cause creases on them, thus making it challenging to iron. The better models, however, cause less tangling of garments and also the crease is less, since they use the reverse action dryer, where the drum spins in both the directions simultaneously. This way the clothes untangle themselves easily, due to the two way spin.
To save energy, many of these dryers are measured with sensors that could indicate when the clothes are completely dry. For that reason, it may avoid needless waste of energy. For woolen clothes, there is also an option called crease guard. This will let the woolen clothes to dry faster without the creasing.
Few models don't have sensors and have Timer Models wherein the consumer has to set the timing as in washing machines of how much time to dry the filled in clothes. While making use of this model of dryers one has to carefully set the timings of drying because over drying will leave the clothes rough and stiff that'll be hard for ironing.
Though some combinations can maintain the performance of the dryer, they are relatively more expensive. Therefore, careful choices have to be made accordingly.
It's never easy buying a new appliance, right? Shopping for a brand new refrigerator can be a difficult experience. There are several models to choose from on top of the different brands, styles, even colors. So where do you begin? This post will help you make a better choice in buying a refrigerator.
•    Determine the space you require .Whenever determining the best size for the refrigerator you must factor in the door swing in relation to adjacent walls, cabinets, and other appliances. No matter, how many people living in your home today, you need a refrigerator that could fit all of your goodies in. Space is vital even if you're still single and living alone, because we cannot deny it, there are occasions we may have some function in our house, now can your fridge cater to the food and drinks you might put inside.
•    The refrigerators feature is the most significant consideration when selecting a refrigerator. A number of features include automatic defrosting in which new refrigerators have it as a standard feature and there's also the power failure warning system feature in which it alerts you if there was a power outage while you were not around. It usually also displays the highest temperature reached so you can make a decision on discarding spoiled food. And the most frequent feature is its power to make ice or the ice maker feature. There are far more features like filtered water, water filter indicator or water and ice dispenser. You just need to know the requirement of your household.
•    Style is important also. You need to choose a complementing color, however never obtain a refrigerator based on color alone. Your main concern is a refrigerator that's got the functionality that best matches the way your household lives.
•    Considering the fact that energy efficiency levels vary with respect to the type of refrigerator, you ought to be wary of the energy efficiency of the unit that you would like to purchase. Although, it's wise to look at the energy star, this should not be the only feature which you look for. This is because there are some units that do not have an energy star but they're very energy-efficient. To be on the safe side you should consider the annual operating costs and the kilowatt-hours annually that the unit uses. The great side is that you can easily find the information on the yellow EnergyGuide label.
It's such a wonderful feeling once you've found the fridge that you've been wanting. That's the reason it's best for you to consider all the factors above before you go out buying things. Reading tips and guides like this is the perfect way for you to find your perfect fridge at the shortest time.
The very best range hoods are those that could contain and get rid of the smoke and fumes coming out of the cooking range and instantly return with air thus keeping the kitchen free from harmful gases. These hoods are also a lot quieter than other very similar hoods. The lighting options have also been found to be excellent.
There are basically 2 kinds of range hoods. The hoods that release the air outside of the home are vented hoods. They need a duct system that attaches to the range hood and is attached to an external wall within the home. While the ventless range hood cleans the air through a series of filters.
A critical purpose of any kitchen hood would be to efficiently extract the steam when cooking. It's viewed as useful if it has the proper capacity to match the heat output of your stove. This means that the vent hood will need to have the sufficient capacity to suck in the quantity of smoke, odor, and steam your range secretes when being used. Additionally you have to balance the motor speed with the amount of noise which is produced. It is recommended that you find a manufacturer that specifies the amount of noise their range hoods make whenever in use.
Range hoods are now created not just with use in mind but additionally aesthetics. Currently, they can be developed well and can come in various kinds of materials and styles to consider. The copper range hoods are usually coated with a lacquer coating that protects the hood. Copper range hoods goes well with granite, iron, travertine as well as nickel kitchens in terms of blending in with the other furniture.
Also, ensure you can easily dismantle the baffle filters to easily clean and change them. Check if they could be washed in the dishwasher. This saves a ton of trouble since these have to be cleaned on a regular schedule. Leaving them to pile up grease and dirt is dangerous as these filters can ignite and cause serious fire damage.
If you aren't certain what type of range hood to get, you can find internet sites that will present you with various models and designs and sizes. It's great if you can check out more than one website so that you can assess the products and prices. Additionally, read some customer feedback and tips since you will uncover the pros and cons of each product.