"Kids don't often hear much positive feedback from adults, and creating and tending a garden also empowers kids because they hear that they have "done a good job" from other adults. Being responsible for tending a garden also fosters their sense of "nurturing" and helps them learn to care for other living things."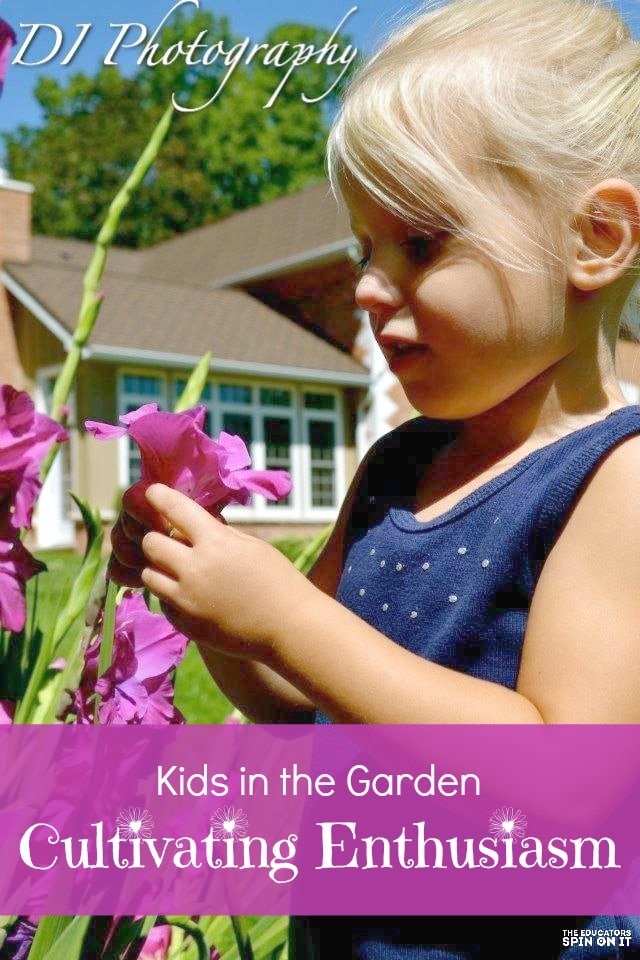 Gardening with kids is messy, educational, and FUN!  As part of our Kids in the Garden; Learning and Growing series, we have expert gardener, Matthew Hiemstra, joining in to share ways to help keep kids excited about gardening for the entire season.  Matthew is also the creator of #gardenconnect, a global gardening project he founded to connect gardeners with a common purpose.  I am excited to participate in his project this year and HOPING some of my plants turn out OK.  There is a lot of pressure when you know others will be watching what you grow!..Read more: https://theeducatorsspinonit.com/getting-kids-excited-about-gardening/
"It's easy to be envious of the bright green lawns you see around your neighborhood. To build a strong, healthy lawn it is important not to water too frequently.  It's all about training your lawn to develop a deep root system that will see it through the summer months."
A beautiful lawn is one of the most desired features in gardens all around the world. Here are five useful tips to help you in your hunt for the perfect lawn.
The outdoors season has truly begun and it´s time to enjoy that beautiful lawn of yours. A lawn that will be the pride and joy of the neighbourhood and stay lush and green if cared for properly. To help you with this we´ve assembled a list of important things to have in mind…
Read more: https://www.gardena.com/int/garden-life/garden-magazine/five-easy-tips-for-a-beautiful-lawn/
"We've all been there, a bright and lively plant reduced to a pile of wilted leaves overnight.There are  common mistakes you should avoid to keep your dream garden from becoming a nightmare."
"No garden is complete without a garden shed. If you aim to call yourself a self-respecting gardener and wish to have a garden that can be compared to the best, a well-organized, well-built, and well-placed garden shed is an absolute must."
Everybody loves storage space. Regardless of the size of your home, having a storage space is a necessity for many people. Having a garden shed can resolve many of those issues and more. From increasing the value of your property to help you sort that 90s sports equipment you can't bear to part ways with, there are many great reasons to build a shed in your garden. Have a look at our list below and find our top 5…
Read more: https://www.timber-shiplap-cladding.co.uk/blog/5-top-benefits-garden-shed/
"The quantity and quality of what you could grow in your garden depends upon the quality of its soil. Plants are only as wholesome as the soil they are grown in. If you want to plant a healthy garden filled with beautiful flowers and good things to eat, then you may need fertile, well-drained soil."
http://amandamwolfgang.weebly.com/
Knowing the soil pH and fertility level of a soil is a lot like driving a car without any direction. To a garden owner it is essential to find out the fertility level of a soil, whether or not this needs lime or additional fertilizer. The nutrients of the soil really should match the plants and flowers that is to be planted which explains why soil testing is extremely essential to any agricultural usage.
We often here about soil but how about soil testing? Soil testing gives details on the mineral nutrition of a soil. In most cases measured by finding out the acidity of the soil pH and the level of different soil nutrients(sodium, potassium, calcium, copper, zinc and etc). Once test soil is conducted it helps a garden owner choose which fertilizers to use and what pest to remove.
One of the major troubles of having a garden are over-fertilization and abnormal plant growth. This could cause to dreaded diseases. While soil testing aids minimize water pollution, when nutrients are poured through by plants(which they do not demand) the inclination is it is scattered through groundwater which often comes about during thunderstorms and torrential rain typhoons.
Based on the test, it is possible to assess the nutritional level the test shows. If the test result demonstrated that the nutrient levels are below what they should be, then you should feed your grasses. Be careful not to over fertilize your lawn as too much fertilizing could cause your lawn to be burnt. Adding compost will help increase the nutrient level however the release of nutrients is rather slow. Also you can use inorganic fertilizers to increase the nutrients level.
It is also crucial that you check the nitrogen levels present in the agricultural land. Excessive nitrogen can cause rapid development of the plants leading to retarded flower and seed formation. Low nitrogen level can cause diseases and weakening of the plant.
Furthermore, the existence of harmful weeds as well as the emergence of pathogen are also being traced in soil testing. A set of testing kits can find out these damaging elements so that it can assist cease crop cultivation and multiplication of harmful weeds.
There are several forms of testing soil kits that exist in the market today. Testing kits that will analyze the level of nitrogen, phosphorus, saline content, nitrogen content and saline content. In any rate, testing the soil is quite crucial. Sanitation must be noticed constantly when starting garden. Therefore, in testing the soil content, the final results must effectively be examined and given proper action.

"When you've had trees eliminated from your property, you are commonly left with large roots as well as persistent trunks that are challenging to get rid of. You can certainly do your finest to work around these eyesores, but they can actually get in the way of enjoying your landscape."

http://arboroakstreepros.com/
Stump removal requires time and calls for following established methods to make the process simpler and also much faster to complete. Most landowners would rather have stumps gotten rid of due to the fact that they use up precious area, preventing the building or installment of structures. They are also eyesores even if vegetation expands on them.
The biggest trouble, however, is that they're unsafe and could trigger injuries particularly when hidden under foliage. Most stump removal approaches ought to be undertaken by experts specifically if tools is utilized. Have a look at four typical strategies.
By hand
If intending on the do-it-yourself strategy to getting rid of a tree stump it will certainly benefit if you have the ability to make use of one of the most reliable tools and tools. A range of tools are available for making the whole procedure of removing a tree stump that a lot more straightforward. Additionally, you'll find that utilizing the proper tools will certainly produce a risk-free workplace, thus much less likely to wound on your own in the process of completing this kind of job. Tools could consist of pruning saw, shears, axe, digging bar, shovel, hand winch, as well as chainsaw
By grinding
Grinding is a preferred elimination method yet ought to not be tried by amateurs. The equipment could be leased if employing professional aid is not desired. Like the hand method, the roots will certainly have to be axed while rocks and also various other barriers are removed. A chainsaw is utilized to reduce the stump even more to earn grinding simpler and less lengthy. The grinder will certainly be tough to make use of for beginners so it's a smart idea to have someone from the rental company show the procedure.
By burning
Burning is an inexpensive way to remove stumps and is a common strategy used in areas that do not have accessibility to stump grinders . In this approach, the stump isn't simply lit. Holes are tired into it as well as filled with potassium nitrate. Water is poured into the holes to dissolve the chemical as well as scrap timber is put on top of the stump before ignition. Boring holes and burning the within the stump ensures that the entire piece burns well. Remnants are cleared as well as vegetation permitted to grow over the location if building and construction or setup of structures is not immediately needed.
By chemicals 
Chemical elimination is another method that is economical. Nonetheless, it takes some time for the stump to break down. Potassium nitrate is loaded right into holes drilled not in the stump however around it. Water is poured into the holes and also the mix is left to sit for regarding a month or even more depending on the state of decay of the stump. The waiting period ends when the stump comes to be squishy and can be torn utilizing an axe. To promote even more deteriorating, the stump can be doused with kerosene and made to sit for an additional couple of weeks prior to axing it. Or, it can be melted making removal of particles less complicated.
"Pruning is regarded as the basic maintenance formula for plants. These natural resources require consistent maintenance for structural strength and outward appearance. On the other hand, the process has to be carried out by people who understand plants as well as the proper way of looking after them."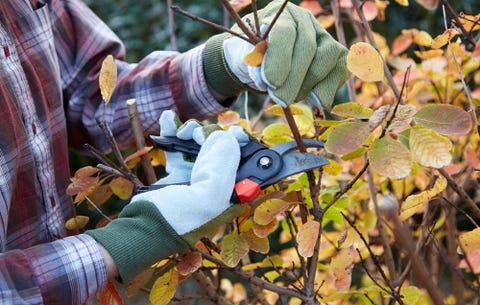 https://www.goodhousekeeping.com/
Tree pruning can seem to be like such a chore. You'll have to spend time finding out the absolute best way to get those trees looking great. Yet exactly why we must prune? Well there are several very good reasons for pruning plants. These reasons are listed below in this posting.
1) To improve the look or health of a plant. Prompt elimination of infected, damaged, or dead plant parts speeds the formation of callus tissue, and oftentimes restricts multiplication of insects and disease. For trees, pruning a dense canopy permits better air circulation and sunlight infiltration. To avoid upcoming problems, remove crossing branches that rub or hinder each other, and those that make narrow crotches.
2. To control the size of a plant. By taking off old and dead limbs, you let the plant to focus more on raising its size and building new limbs than trying to recover them. You should also ensure you are guiding the plant to grow in the right way. This means away from buildings and other structures.
3. Removing stubs. Small stubs shouldn't be left, as these become subject to bacterial and fungal attack, that may proceed into the main trunk or branch itself. However, cuts that happen to be made too flush with the trunk, while appearing to have calloused over, could also cause rot to build up behind them and therefore within the trunk.
4. Create shapes. A particular shape is achieved by a regular pruning session. Shrubs or trees planted close together could be converted into a hedge with a well planned method of pruning.
5. More flowers or fruits. Fruit trees and flowering plants are certain to provide a higher yield of fruit and blossoms after receiving the routine pruning. By eliminating the spent flowers throughout the season, the blooming time is prolonged and also a more generous crop of flowers or fruits are noticed in regard to round to harvest time.
6) To rejuvenate old plants. As trees and shrubs fully developed, their forms could become unattractive. Pruning could recover vigor, and improve the appearance of these plants.
Pruning is required in an effort to assure the looks and health of a plant. Pruning decreases the size of a plant so that it suits the landscape proportionately and eliminates dead wood and low limbs. Plants sometimes should trained to grow a certain way. Pruning is required to make this happen. Pruning also influences fruiting and flowering and rejuvenation of old plants.

"Freshwater aquarium plants are a worthwhile addition to your fish tank. In a well planted tank, fish have better habitat, live a more natural life, and appear much more comfortable than in an unplanted tank or a tank with less habitat. Real plants do miracles for aquariums, providing fish with oxygen and habitat."
https://fpsbutest.wordpress.com/
When planning an aquarium, one of many key elements you will need is a large variety of aquarium plants. Aquarium plants are not just pleasing to look at but they also serve a vital function in your aquarium. They are available in a number of different types and you can find some fundamental recommendations that may help you select the right plants for your aquarium. When you are planning the environment for your fish, having a basic idea of aquarium plants will help to make your efforts a success and allow you to provide the best possible environment for your fish.
Provided that there's enough light and no plant-eating fish within the aquarium, keeping freshwater aquarium plants must not pose a problem. Light plays an important role in the process of photosynthesis, which is inherent to all plants and provides oxygen to the aquarium. Having adequate lighting then is vital for a well-balanced aquarium with plant life in it.
When you're putting plants in your planted aquarium, you need to provide a appropriate substrate for the plants to get their roots in. A substrate of at least 1-3mm in size is commonly suggested, but you should look at your plans specific needs to find out just what will be the best for it. Most planted aquariums are freshwater, therefore be sure that you properly condition and de-chlorinate the water so that your plants aren't damaged.
You have to also ensure that you look at the habitat of each plant that you choose. This means that you must know what kind of water pH they could survive in and if it matches that of the fish, the hardness levels and the amount of light they must grow well. Whenever possible, choose a mix that has similar habitats to ensure that it's simple for you to provide it – it's difficult to make many variations in a small tank. In case you have a heavily planted tank, you may want to consider getting a carbon dioxide injector to make sure that all the plants get the proper amount of CO2.
Before the process of planting, plan in advance and make a sketch as to in which the plants is going to be located. One suggestion is always to put larger plants in the back of your fish tank. Furthermore, keep in mind how many plants you would like to grow, how large they get, and how fast they grow. You still want to be able to actually see your fish. Some maintenance activities consist of pruning can be performed if your aquatic plants take over your aquarium. Even so, freshwater aquarium plants can substantially boost the aesthetics of your aquarium, therefore rather than settling for fake plastic artificial plants, offer live aquatic plants a try.
"A garden in the yard gives splendor to the surroundings. Additionally, it draws in the viewers, especially when you have a gorgeous flourishing garden. One kind of garden that basically provides a Hawaiian effect is the tropical garden. But it really is challenging to create a garden, there are numerous steps that must be followed in order to be successful in creating a garden."
https://www.pinterest.ph
Ordinary gardens today do not give enough effect or life in the surroundings. There are various kinds of garden and one is the tropical garden. Tropical garden idea is becoming very popular for the past couple of years. Plants utilized in creating a tropical garden give several different colors that are very appealing to to the eyes. The plants color and special appearance makes it a lot more appealing to to the garden lovers from different places in which numerous plant gardeners utilize similar materials in making the garden.
Your backyard landscape need to capture the wild and untamed mood of a natural tropical landscape. This mood cannot be captured with the boring, straight-line plantings of overly manicured shrubs that happen to be so common in residential landscapes. The tropically-inspired garden will be much more casual, with seemingly randomized patterns of trees, shrubs, and foliage. The exotic, tropical look of your backyard resort can be achieved by incorporating numerous shapes, forms, colors, and textures. Banana plants with the large dramatic leaves, beautiful foliage plants like coleus and gingers, open and airy ornamental grasses, gorgeous climbing vines, and tropical blooming plants all have a place.
Below are great tips in making use of plants that you can use creating your garden:
* Flowers and plants are clearly the main attraction of this particular garden design. Keep in mind not to overdo it and a perfect tropical landscape will emerge on your property area.
* Once you consider the tropics, you are able to immediately imagine palms and colorful flowering plants. And this is precisely what you need to integrate in the design to get the tropical search for your backyard.
* Furthermore, you'll know the basics of the placement of plants. The large and sturdy plants should not be too close to the small and fragile plant
* To incorporate vines to your garden, you can even grow creepers on the light poles.
* You can have furniture like benches and footpaths everywhere. Ensure the furniture as well as other fixture you decide to put in your backyard blends well with the over-all design. You might also include some lighting and furniture to incorporate allure to the surrounding.
Whether it be in the form of pond, swamp, or cascading water system, water boosts the entire tropical theme. Water is an element known to create soothing and peaceful ambiance, so never leave your landscape without one. It may be small or wide. Whatever it is, there's never a better way to let the landscape the most calming place. Rocks and stones strewn all over where water is put in will complete the drama and look.
By using these ideas in creating your tropical garden will truly give a real garden effect, like the garden paradises in Hawaii. And surely you'll have a successful tropical garden and it'll really bring life to your yard.
"Many of us own and love cats, but can still be irritated when neighboring felines come into our garden to defecate and hunt birds. What's more, because cats are carnivores, their feces can contain parasites or pathogens not present in other types of manure, such as horse and cow. As such there can be risks associated with cats defecating in your vegetable patch. There are various ways to discourage cats from visiting your garden and veg plot. "
So the neighbourhood kitty keeps digging in your garden. Should you worry?
Probably — a little. Cats are carnivores and their feces can contain parasites or pathogens not present in herbivore manure.
Luckily, there are several eco friendly solutions that will help to keep cats out of your much loved vegetable beds and away from your growing food.
Cats prefer to walk on soft soil and will avoid prickly surfaces. Make your garden beds into a less inviting litter box with the following prickly solutions:
Cover the garden in twigs, placed a couple of inches apart throughout the bed.
Push pine cones or other prickly yard trimmings down into the soil around your plants.
Lay chicken wire over the beds. Alternatively, upcycle the mesh produce bags from onions or potatoes by spreading them on the garden and anchoring them with twigs. Increase the hole size around your budding plants if necessary.
Read more: https://davidsuzuki.org/queen-of-green/keep-cats-garden/