Brighten Up Your Kitchen With White Kitchen Cabinets
White kitchen cabinets are to kitchen design what a little black dress is to fashion. They go everywhere. How you accessorize and pick details make them a perfect fit in any kitchen style or design. It'll give a neutral background which you can use in many kitchen styles including, ultra-modern, European and traditional. This particular choice is timeless; it doesn't go out of style and will likely be as popular today as it is in twenty years' time. A lot of people pick white cabinetry for the kitchen because it makes the kitchen light and bright and because white looks clean. In a very small kitchen, white cabinets can make a feeling of greater spaciousness and light.
Nevertheless, this color has its share of drawbacks. White is an extremely vulnerable color considering that scratches and stains will easily be visible. Therefore, white kitchen cabinets, particularly the wooden ones, demand extra attention and a lot of maintenance in order to look as good as new. However currently, kitchen cabinets are made of wood substrate coated with a vinyl thermofoil coating. The best thing about them is that they look exactly like painted wooden cabinets and they require less maintenance. The thermofoil coating is durable, easy to clean, stain and scratch resistant.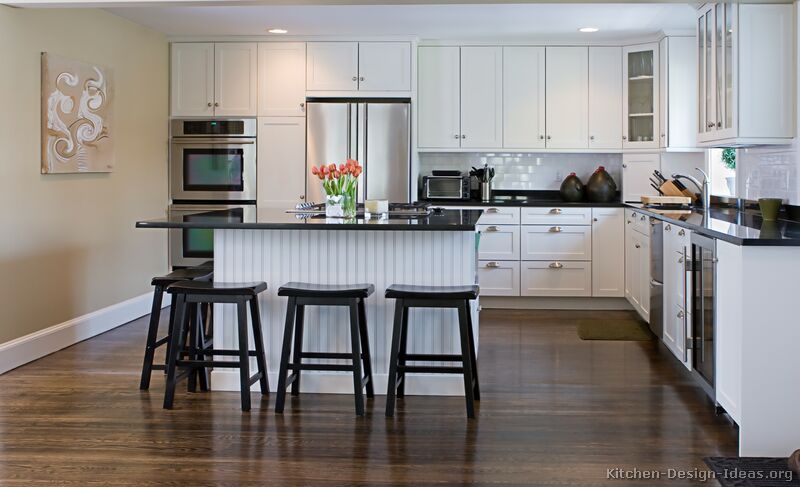 White kitchen cabinets doesn't have to be pure white, you may choose some other shades of white as well. You could opt for an off-white color like cream, eggshell, ivory, navajo white, and vanilla white. If you prefer a dash of color, you can also try white with a dash of other color such as yellow, orange, red, blue, gray, green, and purple. Tinged white may be easily paired with the color of your kitchen walls. Green-tinged white cabinets, for instance, will look really nice on a bold blue wall.
When you choose to go for white, ponder on what sort of finish will suit your kitchen best. There are two options available, one to stain the kitchen cabinet and the other to paint them. Staining is costly since it calls for extra effort like sanding the existing stain or painting off of the kitchen cabinets. It is extremely beautiful to behold a white stain on the kitchen cabinet showing some of the wood grain through the white color. For a more consistent and lasting appearance, painting is the greatest option. A number of specialty paints are now available which are stain resistant and it is easy to wipe them clean.